Department of Animal Science
---
Scientifically researches whole animals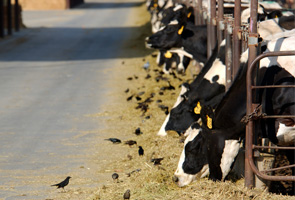 Milk, meat and fur. We live surrounded by "gifts" from animals every day. The relationship between us and them continuing since ten thousand years ago will last without end, even it has changed greatly nowadays.
The department educates and researches comprehensively from birth/growth of animals to products utilization, aiming at clarification of life phenomena which surround animals and their ecosystems, also effective utilization of products. We are the group exploring science for entire animals and environment which surrounds them.
Check!
Department of Animal Science is comprised of following 6 fields.
---
In the department, you can learn by broad curriculum ranging from animal production, basics of animal science and products utilization.
---
We perform education staying in close communication with farms and pastures in Field Science Center for Northern Biosphere.
---
Curriculum is organized via cooperation of Graduate School of Veterinary Medicine which has many common contents in basic subjects, thus fulfilling contents of education.
---
Animal Genetics and Reproduction

Current research activities: application of genetic and epigenetic information for improvement and conservation of genetic resources; genetics of reproductive traits; embryo manipulation, development and differentiation.

Current research activities: efficiency in animal production system; energy and nitrogen flow in animal production system; comparison of land uses for animal production.

Animal Function and Nutrition

Current research activities: biochemical, molecular biological and ecological studies on animal digestion; Development of functional feeds.

Current research activities: Development of availability of meat proteins; tenderization mechanism of meat; Mechanism of skeletal muscle development.

Current research activities: Application of edible microorganisms for dairy products. Quality improvement of the meat products and screening of bioactive compounds derived from meat. Establishment of the method of solubilization of meat proteins.