Admission Course
Master's Course (Admission in April or October)
Doctoral Course (Admission in April or October)
* If your prospective supervisor advises you to apply for research student (non-regular student) prior to your graduate study, you have to study for 6 or 12 months as a research student before you enroll in the special program.
Number of Students to be Admitted
Several students will be selected for admission. Students supported by other Japanese Government Scholarship (University recommendation, Embassy Recommendation etc.) will be selected. Additional students on other sort of financial supports (including self-supported students) are also welcome.
Application Timeline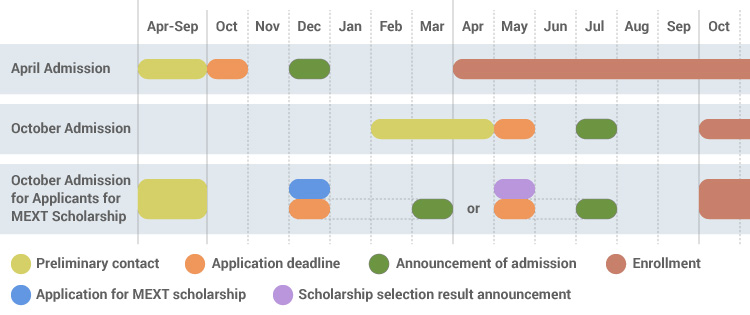 Application Procedures
1.  Preliminary Contact
Graduate students conduct research under the guidance of a supervisor. You have to find a faculty member who is willing to give you instruction on your research. You can  get the detailed information of faculty members who belong to the special course at LABORATORIES.
When you contact a faculty member, please provide him/her your information such as your academic background, your study and research plan, your financial situation (get a scholarship, self-funded, etc.).
 2.  Application
You can apply for the special program(Master's course/ Doctoral course) after you get your prospective supervisor's consent of acceptance. You have to send the official application form and required documents to the prospective supervisor by the application deadline. Applicants (excluding scholarship candidate of MEXT, China Scholarship Council and HU President's Fellowship) must pay the examination fee at the time of application.
3.  Evaluation
You are evaluated based on your application documents and the online interview with your prospective supervisor. You are not required to come to Japan for the entrance examination.
4.  Announcement of Admission
After passing the evaluation process, you will be required to submit necessary documentation, pay the entrance fee (except for scholarship candidates mentioned in 2), and complete other necessary procedures to become enrolled.
Application Guidelines
Please refer the application guideline for 2023 Admission if you need the detailed information of the required application documents. The guideline is updated in every September.
Master's Course
Application Guideline for Master's Course (PDF)    Application form for Master's Course (WORD)
 Doctoral Course
Application Guideline for Doctoral Course (PDF)     Application form for Doctoral Course (WORD) 
Student Fees
 

Examination Fee

Admission Fee
 Tuition Fee
Graduate Students
 30,000 yen
 282,000 yen
 267,900 yen for 6 months (annually 535,800 yen)
 When to pay
 At the time of Application
 Before Admission
 May and  November