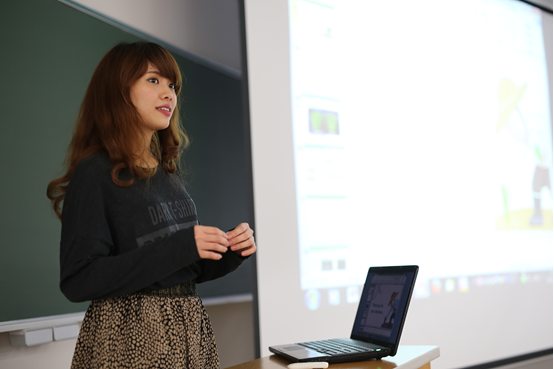 The first impression being in Sapporo is the kindness of Japanese people. Japanese people are so kind and willing to help me everything. I came to Hokkaido University to study master and doctoral degree in applied microbiology laboratory. Now, I am a 2nd year of Ph.D. student. My research is about studying of avirulence gene in rice blast disease pathogen. In my lab, we have seminar and progression report every Wednesday to discuss about our results with advisors. I do like the research atmosphere in my lab. Everyone does not hesitate to help each other. Also, there are many available experimental tools for students, so it is very convenience to do experiment here. In my daily life, I come to school at 9:30 or 10:00 am and go home around 7:30 pm. But, I sometimes spend longer time in lab until 10:00 pm. Not only studying in school, I also enjoyed my life outside in Hokkaido. I often go out to Japanese restaurants and also entertainment areas. You can find everything in Sapporo same as in Tokyo. The most exciting thing that I can't do in my country is enjoying snow in Sapporo. Now, I can say that being student in HU broaden my life to different things and different people. Thank you HU!
  Sornkom Worawan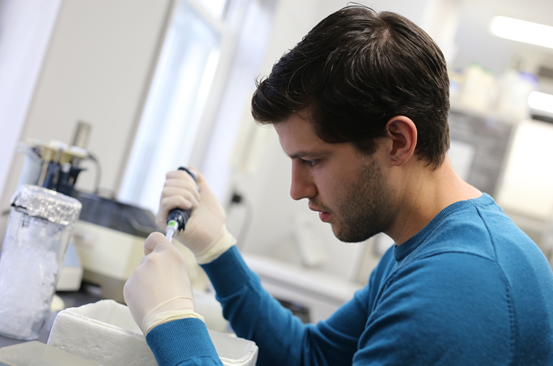 I enjoy the balance of routine and novelty provided by graduate research at Hokkaido University. My morning routine consists of university conducted free Japanese language courses from 8:45am to either 10:15am or 12:00pm, depending on the day. I usually eat a decent but cheap lunch at one of the student cafeterias, or enjoy a wonderful set lunch at the variety of nearby restaurants. The novelty of the day begins with research in the lab. I am lucky to be allowed a good amount of freedom in my research, so I am constantly reading new articles, trying to develop novel ideas, and deciding on the proper experiments to conduct. The bulk of my day unsurprisingly is reading, planning, or conducting experiments. Collaboration comes easy in my lab, as it seems my professors are just a phone call away from all sorts of experts in many fields. For example, thanks to my professors I am currently spending time in a different lab, in a different faculty, learning new skills that I wanted to develop, and I couldn't be happier! In the evenings I can usually find time to sneak away to exercise at the old (but free) university fitness center, or a nearby fitness club. When experiments don't call for weekend work, my fun depends on the season – the long Sapporo winters provide many weekends in the year to ski my heart out, while the summers provide the perfect weather for outdoor fun.
Cheers!
Kevin Sherman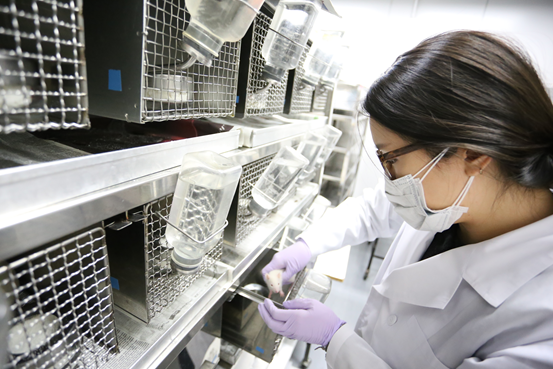 Ga Hyun's daily schedule
7:00
Wake up
8:00
Arrival at Lab
9:00
Feed and take care of rats
10:00
Laboratory work <rat dissection, cell culture, etc.>
13:00
Lunch
14:00
Laboratory work
<ELISA, real-time PCR, Western blotting, etc.>
17:00
<Monday & Wednesday>
lab seminar
<Tuesday & Thursday>
part-time job in the university library
20:00
Data analysis
21:00
Confirm schedule and experiment of tomorrow
22:00
Dinner & free time
24:00
sleep
I came to Hokkaido University to study nutritional biochemistry a master and doctoral degree. Now, I am working on immune functions in response to some novel non-digestible polysaccharides. I think that Hokkaido is truly one of the most scenic areas in Japan. Sometimes I travel in various parts of Hokkaido in holiday. Also Hokkaido University prepares many events, excursion with international students and university festival and so on. It is a good chance for me to meet and talk with people from various countries. Such opportunities make me refresh so much. I enjoy research work and life in Japan.
Joe Gahyun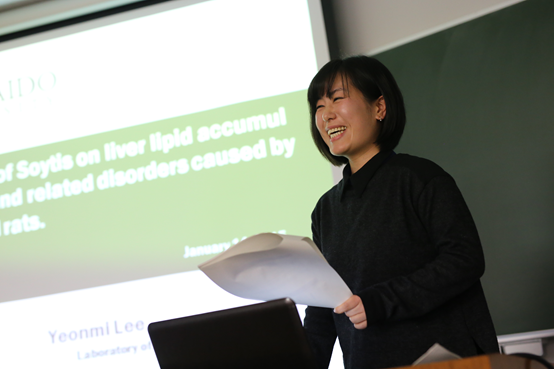 Yeonmi's daily schedule
time
What to do
 9:00
Arrival at Lab
10:00
Feed and take care of rats
11:00
Feed Making
12:00
Lunch
13:00
Laboratory work
<ELISA, real-time PCR, HPLC-MS, Gut permeabiity assay, etc.>
17:00
Lab seminar
< Present my research or listen to coworker's presentation>
19:00
Dinner
20:00
Data anaysis & free time
I am a PhD student and study about bile acid-induced pathogenesis in lab of Nutritional Biochemistry. I am mostly spending my time in my lab to research and discuss my study with my professor. It is very interesting to me. There are many good things I feel living in Japan. First, Most Japanese are good, nice and caring people so I can get supported not only experimental works but also private works from many Japanese up to now. Second, delicious foods!! Hokkaido is known to provide most delicious foods and healthy food materials in Japan. I enjoy these foods every day. Last, It snows very much in long winter but not very cold so I can enjoy my free time for traveling or skiing sometimes. And I think Hokkaido is the best place to travel in summer. I enjoy my exciting life. Thank you!
Yeonmi Lee