---
主な研究テーマ
Study on environment monitoring using satellite data and ground-based measurements
The rise in PM2.5, CO2 and methane concentration has a potential impact on human health and the environment and has become a major environmental concern in many countries. Remote sensing is a crucial tool for environment monitoring. For mapping the distributions and changes of PM2.5, CO2 and methane concentration, some retrieval methods were developed using GOSAT (the Greenhouse Gas Observing Satellite) and MODIS (the Moderate Resolution Imaging Spectroradiometer) satellite data and ground observations data. Spatio-temporal analysis can help us understand their sources of occurrence and diffusion.
Assessing Oil Palm Growth Condition in Indonesia Using Remote Sensing Technique
This study focus on two main topics are utilization of remote sensing for assessing oil palm growth condition caused by basal stem rot disease (Ganoderma boninense) (1) and prediction leaf nutrient content (2). Quickbird imagery, spectroradiometer, multispectral and hyperspectral images that captured with drone are data in this study. The data mining as random forest (RF), support vector machine (SVM), treebag, kNN, and CART are classifier method for assessing basal steam rot disease. While the correlation analysis, simple regression, screening data for normalized difference analysis, vegetation index analysis and multivariate analysis are methods for leaf nutrient contents prediction.
Study on the relationship between anthropogenic activities and environment change using remote sensing technology
As the explosive growth of world population, human activities have been becoming one of the main factors to cause the change of environment. An adequate understanding of the relationship between anthropogenic activities and environment change is a prerequisite for human`s sustainable development. In this study, the remote sensing data (Landsat, MODIS, GOSAT and OCO-2) and ground-based observation data (air-quality data and meteorological data) are used to analyze the greenhouse gases changes, climate changes and land use changes, which are caused by human activities, such as crop residue burning, urbanization, construction of large-scale project and so on.
Monitoring the effects of global climate change on meteorological disasters risk by remote sensing technology
The analysis of global climate change is aiming to use RS on reacting the globe-scale or region-scale climate change, exploring multi-scale spatial and temporal distribution evaluation, optimizing the simulation and monitoring of ecological and environmental change. Under the global change background, RS plays an important role in detecting natural disaster risk in the fields such as atmosphere, hydrosphere, biosphere, and their interactions. The emerging developments in high resolution and full-spectrum remote sensing technology make it more convenient to get the key response factors and impact factors.
Estimation of natural forest biomass using satellite remote sensing data in Thua Thien Hue province, Vietnam
For this research, the data are required in ALOS PALSAR and PALSAR-2 with full polarization (HH, HV, VV). The radar backscatter at relatively long wavelengths can penetrate through the canopy and leaves in natural forestry, thus it is suitable for estimating biomass. The research objectives are to quantify above-ground biomass in natural forest in Thua Thien Hue province, Vietnam; and identify the trend and the extent of above-ground biomass changes in natural forest in the period from 2006 up to now. The methodology of PolInSAR and Tomography may be used to derive the height of forest canopy.
TerraSAR-Xを用いた作付状況の解析
北海道において,衛星データを本格的に農業分野へ利用する場合には,雲の出現率が高いため可視・近赤外のバンドの使用に対しては限られたシーンしか利用できないことが多い。その点で合成開口レーダの利用は,天候に左右されないため有利である。しかし,作物の種類や生育ステージに応じて,後方散乱係数がどのように変化するかを調べた例は見当てたらない。大規模農業地帯では作付け状況を効率的に収集する技術が求められており,衛星データ利用への期待が大きい。TerraSAR-Xのデータが農作物の生育ステージや種類の変化に対する挙動を調査することは,衛星データ利活用において重要な意味を持つ。畑作物,特にてん菜,馬鈴薯,小麦,大豆・トウモロコシなどの北海道十勝地域で中心に生産される作物について,生育ステージごとにXバンドデータを取得し,現地との相関関係を解析することにより,植生分類の指標を得る。作成される指標を用いて,十勝地域の植生分類を行う。これらのことを目標に現地調査とTerraSAR-Xデータの処理を行った。
航空機LiDARデータを利用した作物生育情報の取得に関する研究
生物生産において作物群落の立体構造は、生産性を評価・検討する上で基本的な情報ですが、これを実測するには多大な労力と時間を要します。この研究は、航空機LiDAR及びGISを利用して農作物や牧草の立体構造の分布を明らかにすることを目的として実施するものです。
---
研究室紹介
現代は気候変動に伴って世界の各地で環境の異変が起きており,それを探るためのリモートセンシングの活躍の場も広がっています。特に宇宙開発の進展や新技術の開発によって得られるようになった人工衛星や航空機などで観測した多様なデータを用いて,新しい視点から地表や大気の環境をとらえます。本研究室は,農学部でリモートセンシング関連の教育研究を専門に行い,各地で起きている環境の異変(人間の活動による温室効果ガスおよびPM2.5濃度の増加等)を探るために,物質の分光学的性質や必要な情報処理を学び,リモートセンシング手法を用いて生物環境の評価を行う基礎を身につけ,人類と生物が共存するための空間の創造,世界の食糧計画や環境計画への貢献を目指して活動しています。
研究室の日頃の様子について
生物環境情報学研究室では、研究室の見学旅行や、研究にかかる検討会をおこなっています。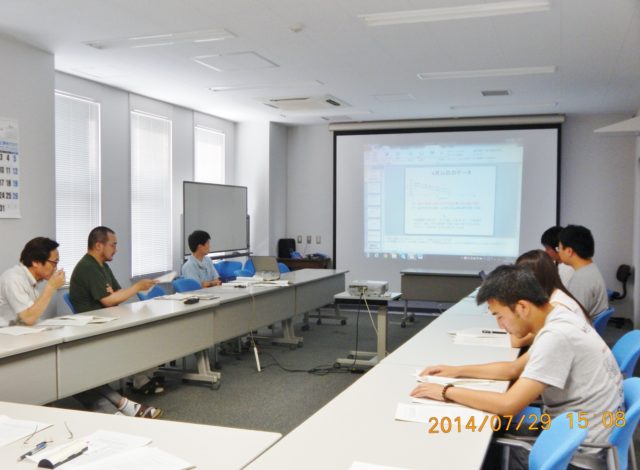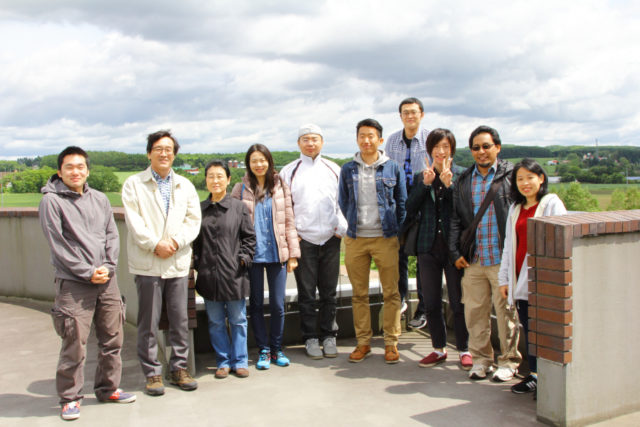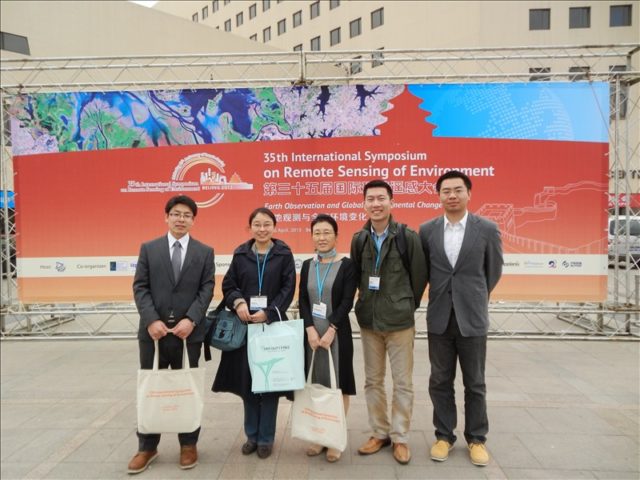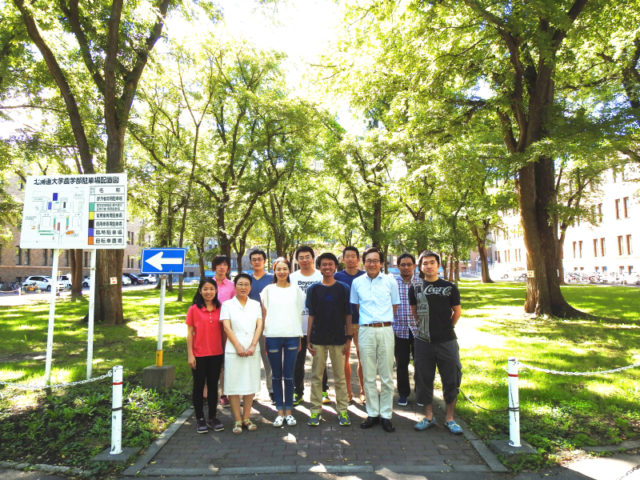 ---
博士3年
鐘 国盛
研究テーマ:Study on the impact of atmospheric pollution on eco-environment changes using satellite remote sensing technique
Heri Santoso
研究テーマ:Assessing Oil Palm Growth Condition in Indonesia Using Remote Sensing Technique
殷 帥
研究テーマ:Study on the relationship between anthropogenic activities and environment change using remote sensing technology
博士2年
孫 仲益
研究テーマ:Monitoring the effects of global climate change on meteorological disasters risk by remote sensing technology
博士1年
Truong Thi Cat Tuong
研究テーマ:Estimation of natural forest biomass using satellite remote sensing data in Thua Thien Hue province, Vietnam
修士2年
山谷 祐貴
研究テーマ:TerraSAR-Xを用いた作付状況の解析
---
住所
〒060-8589 北海道札幌市北区北9条西9丁目N373室
電話番号
011-706-4174
メールアドレス
wang*env.agr.hokudai.ac.jp (*を@に置き換える)
研究室サイト